Your single-source, in-house provider of products and services for
the wireless communication industry.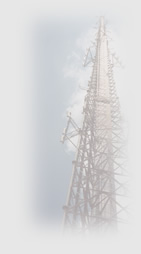 Disaster Recovery
CES offer's complete disaster recovery and emergency response services. Our formal disaster recovery program covers our clients in case of a disaster.
Our contact personnel is available on a 24/7 basis. CES crews respond within 12 to 24 hours and address safety issues first. We then review with client restoration scenarios and proceed to implement same. Services, as needed, include material procurement, rebuilding the site, repair/replace tower, foundation work, restoring traffic (cell on wheels), site clean up, and removal of old tower. CES can supply needed products such as radios, antennas, lines, etc. to complete the restoration process.
We maintain in inventory a 340' guyed tower and a 190' self supporting tower for disaster recovery response. Each tower is designed to handle a load of from 6 to 10 microwave dishes or comparable PCS/Cellular antennas based upon various sizes and loading specifications.
We manufacture and inventory tower mounts, climbing ladders, ice bridges, waveguide ladders, and tower hardware.
Our in house engineering services can assure you the solution we provide is to all tower standards required to restore your site safely and correctly.
If you have a tower network and don't have a formal disaster recovery plan and agreement in place, CES is here for you. Put our over 15 years of experience to work for you and give yourself the piece of mind knowing we are ready to respond for you in any disaster.