Your single-source, in-house provider of products and services for
the wireless communication industry.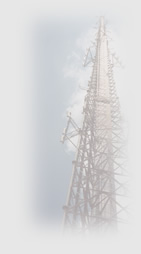 Radio E F & I
Our E F & I radio department is ready to build your complete microwave radio system.
We can Engineer, Furnish and Install everything you need, from concept through final documentation.
We are your "one stop shop."
Engineer:
Site and Path Surveys, Path Engineering, System Engineering
Frequency Searches, Public Notices and License
Application and Filing
Application Engineering to Include All Peripheral
Equipment Through DS-O
New Systems, Analog to Digital Upgrades, System Expansions
Any interface, DS-1, DS-3, OC-3, Wideband Data, Ethernet
Drawings, Manuals and Mark-ups in Auto-Cad
Furnish:
Microwave Radios, All Bands, Licensed or Unlicensed
Antennas, Transmission Lines, Pressure Equipment
Multiplexers, Any Interface
DACCS, DSX Panels, Loop Protections Switches
Channel Banks, Mini DACCS, Terminal Connections
DC Power Systems: Chargers and Batteries
Alarm and Network Manager Systems
Install:
New installations at your site or in portable shelters at our facilities
Network expansions and additions to your existing system
Replacements and in-service cutovers with minimal service interruption
Testing, acceptance testing and component and system troubleshooting
CES uses the highest technical standards in every area. We design your system to meet your traffic and budget needs, now and for years to come. We furnish equipment from a wide selection of possibilities, taking your needs as first priority, to make the equipment match the needs and the budget. We use the highest installation standards possible, and use only qualified and trained technicians.
Clearly, CES is your best choice for all your microwave radio needs!