Your single-source, in-house provider of products and services for
the wireless communication industry.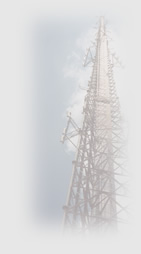 Safety Program
Communication Equipment Specialists, Inc, has one of the industry's largest field service organizations with regional offices located throughout the United States. CES has developed a safety program that has been reviewed and modeled by many in the tower industry and by the National Association of Tower Erectors (NATE). Our OSHA certified personnel have provided assistance to OSHA and others with standards as they established guidelines and regulations for the industry.
The CES developed Safety Manual and Riggers Handbook support the belief that safety training is of the utmost importance to the company's continued success. CES encourages everyone in Field Service to look out for one another. Our installation equipment, test equipment, vehicles, and winches are continually upgraded and monitored by our equipment manager.
CES has Safety Officers that are dedicated to training, certifying, and inspecting our crews on site. These overhead positions demonstrate our total commitment to the highest possible safety standards. At CES, we don't just "talk the talk", we "walk the walk".
All potential employees are screened prior to hiring. Each individual is given a pre-employment drug screen test and their driving record is checked. CES has a random drug test program in place for all existing employees as well as a post-accident drug test program.
All new hires are assigned to a regular installation crew where they learn the safe and proper methods of rigging and installation by applying the safety standards set forth in the company Safety Program as well as the foreman's direction on the job. The project foremen are the keys to
job safety and to CES' approach to assuring a safe workplace is focused accordingly. CES is very fortunate to have foremen and supervisors who have many years of safely performed construction experience. Their knowledge and input is blended with company policies to maintain the high standards our customers have come to expect of CES.
CES strives for excellence and believes there is no fully trained employee, as training is a continuously ongoing task. By offering these standards, our customer receives peace of mind and assurance they have chosen a quality company who will stand behind their workmanship.
CES crews travel throughout the United States and are provided with 4×4 capable vehicles to enable accessibility to even the most remote sites. All of the Field Service crews are fully equipped with top of the line safety and rigging equipment and receive extensive training as well as certification from our vendors. CES is state licensed where required and fully insured.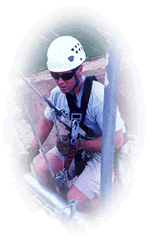 CES has been installing microwave, cellular, and PCS systems throughout the United States for over 15 years and has built a reputation for quality workmanship executed timely, and above all, safely. CES was one of the founding members of NATE, who is working in conjunction with OSHA to write a more pertinent set of safety standards for the tower and communications installation industry. CES is proud to be a leader in this continuing effort to improve the safety standards of our industry.